WHY CHOOSE RADIANT MARBLE FLOORING?
Radiant Marble floors are completely customizable. Adding glitter or other additives really brings that extra "Wow Factor" to your floor. A standard Radiant Marble floor has the choice of two metallic colors over the base layer. Additional colors can be added to your floor for an individualized look. With three different sheen levels (Gloss, Semi-Gloss, & Matte), you can be sure to get the look you desire.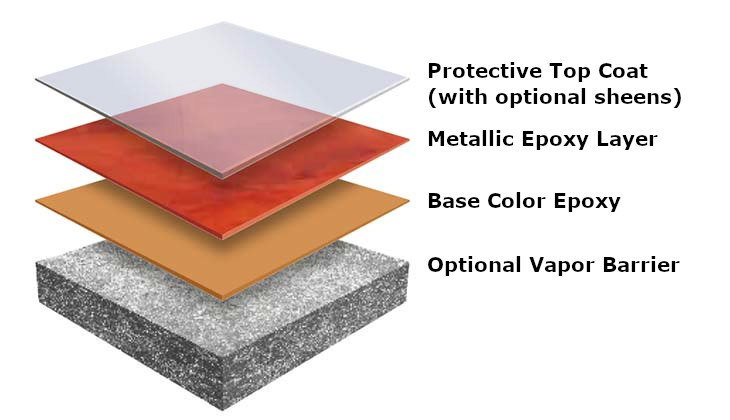 BENEFITs OF RADIANT MARBLE FLOORING
Your radiant marble floor is completely unique to your space and decor. You can make it as subtle or as bold as you want. Your radiant marble floor will be completely seamless, Anti-microbial, low maintenance, and durable enough for commercial spaces with a customizable texture and sheen. Radiant marble floor coatings are also impervious and chemical resistant.
A single base color epoxy layer will give the upper metallic epoxy layers a unique look. By mixing and matching the base color with the top metallic colors, every mix will turn out unique to your space.
Our typical Radiant Marble floors are one base color and two metallic colors, but you can add additional metallic colors to increase the customization of your floor.
If moisture or water is a concern, a vapor barrier can be added to help protect your floor from future lifting or bubbling.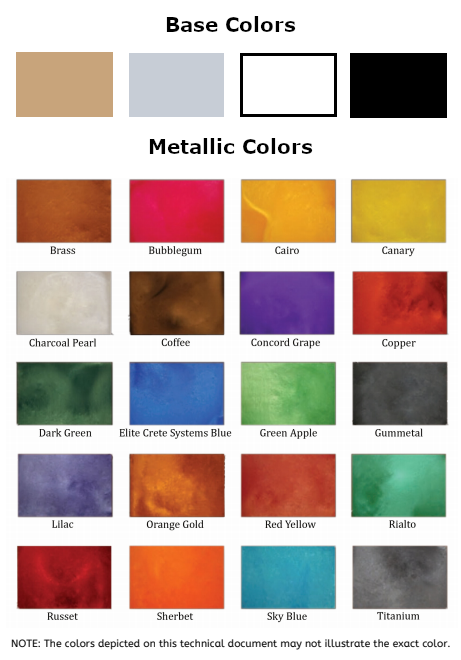 Yes! these floors are designed to hold up to daily industrial and commercial use.
This is a common question we get. The short answer is yes every floor will eventualy get a scratch. There is no such thing as a scratch proof floor. That being said these systems are designed for commercial use and depending on your space and use we can customize a clear coat that will fit your needs.
The install process takes on average 4 – 5 days to complete
Most applications you can get back to your space within 2-3 days. Epoxy floors do reach 80% cure within the firs 7 days and full cure within the first 30 days of install.
 No! You can clean your floor by just using a dry mop or broom. Water and a mop can be used for regular cleaning and maintenance. For heavier cleaning you can use a neutral PH cleaner. Just be sure to rinse with warm water afterwards to remove any film the cleaner may leave behind.
We expect these floors to last the lifetime of your home.
start the process today with a quote
I had paveman pour a 11×17 concrete pad for a shed. They were fast showed up on time and communicated very well. This was a big plus since I was out of town during the pour. Once the shed had arrived and placed I called paveman back to level the shed and to apply there coatings on the shed floor. The crew for the floor job was fantastic, friendly and easy to work with. The attention to detail the company gave was no joke behond 5 stars. I am very happy with the job this company performed.
Georgianna Schultz
2023-11-01
I really have loved working with this team! The are pleasant, professional and do an amazing job!!
Excellent work. End result is very nice, and the crew were great to work with. I would recommend this company to anyone looking for a great concrete coating.
Great experience! Justin and his crew really value their work and come back to make sure you are satisfied with your project. Highly recommend Paveman!
Garrett Clause
2023-07-03
Exceptional communication and professionalism. We are very pleased and impressed with Paveman Coatings. Every interaction has been professional, knowledgeable, and efficient. The finished product is exactly what we were hoping for and looks great. We were referred by a family member who had a great experience, and we will be recommending Paveman Coatings to friends and family as well. Thank you!
Great work resurfacing and coating our patio. Very meticulous, detail oriented, clean and professional crew. Thanks Justin and Ashton on a job well done.
Very responsive by phone, texting, and email
Kristine Welper
2023-05-28
We had a grind and seal done on our indoor basement floor. The team was kind and professional, there was no dust/clean up after and the finished produce turned out great! Justin came to check on the project after completion and fix any imperfections himself. Highly recommend!